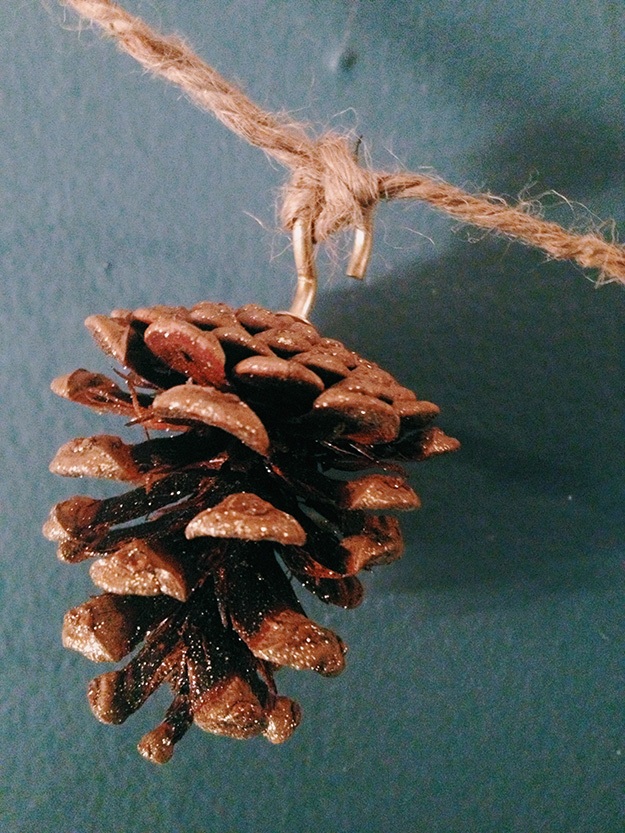 I had seen this gold leaf pinecone garland weeks ago & decided I needed to make one. Except I skipped the whole gold-leaf process & took a pile of pinecones out back and spray painted them. There. The lazy girl's guide to DIY Christmas cheer! What's that? Oh, you're right. Lazy girls don't spray paint pinecones at all! Ok then, it's the DIY Christmas cheer hacker that does that.
After they dried, I screwed in the hooks & tied them to twine. Ta-da! I ended up with three garlands and a ton of extra pine cones, so I picked out the prettiest ones and put them in a vintage milk glass dish I snagged at my favorite thrift store when I was back home over Thanksgiving.
To be honest, I kind of cheated on the wreath. These flowers are from a friend's wedding last year. She encouraged us to take as many as we wanted. I'd been wanting a fun way to use them since then & a simple wreath seemed like the perfect opportunity.
I picked up a straw wreath at Joann Fabrics, curled up on the couch with Love Actually, wound twine all around the wreath, and tied on my friend's wedding flowers. Done!
If you feel so inclined to try any of these, let me know how it goes! I'd love to see what you do with them!