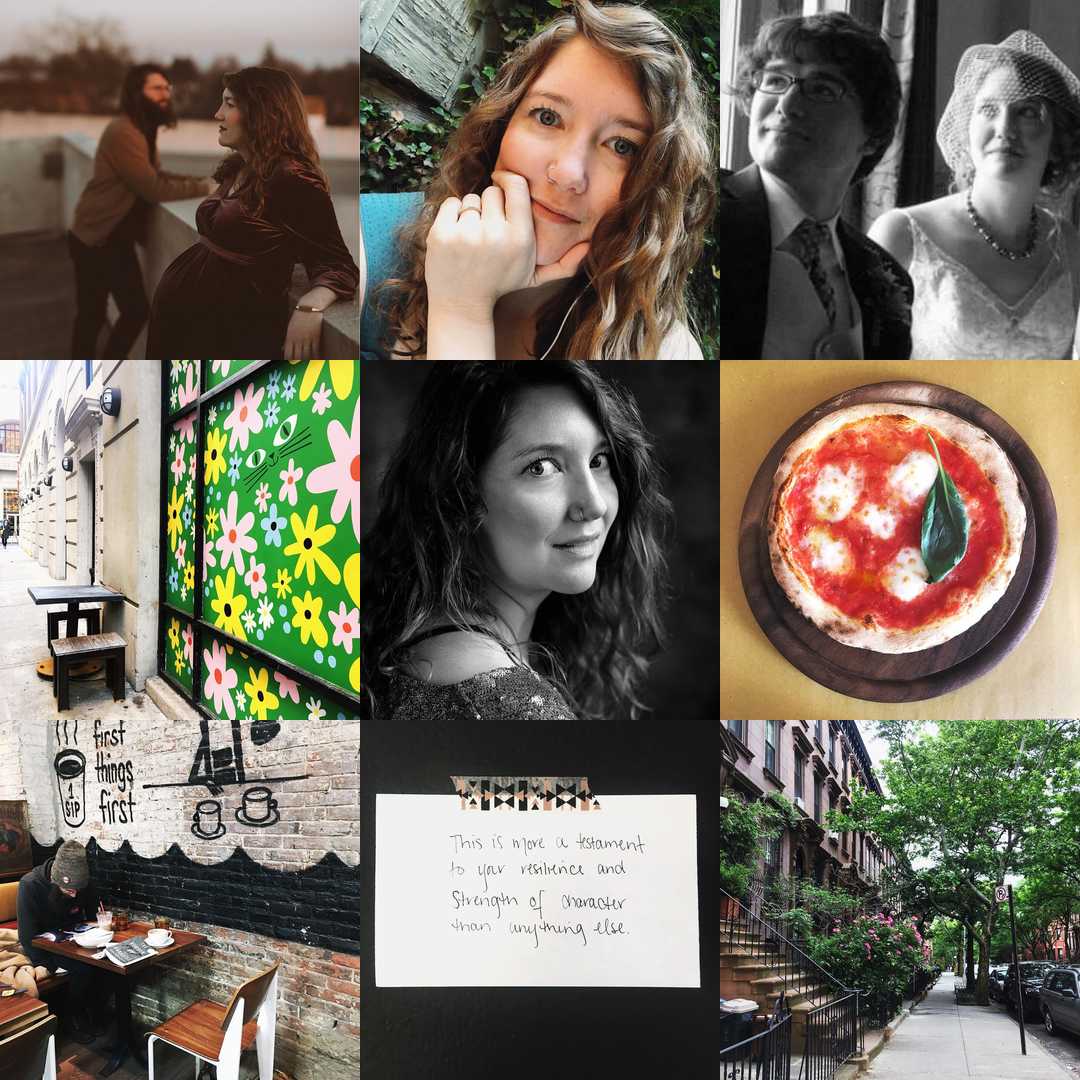 I'm not sure I was really present for this year, and I am still stunned by it. Last year, I was in too much of a difficult spot to stick to my usual year-in-review format, so I copied Austin Kleon's 100 things that made my year strategy. I'm not sure I'm ready to really write about this year (it has been a time), either, so I'm gonna stick with the listicle again. I like reading back on what I wrote then, and remembering the flashes of joy and small habits that helped me survive.
So here's this year's. 100 things that made my 2018:
Brunch at Cafe Lift and a cat cafe visit for my birthday.
A photoshoot and conversation with Alex Gergar.
A day in Harrisburg, working at Little Amps and Midtown Scholar. The milkshakes at the Farm Show.
The Vagina Monologues on Valentine's Day, like we used to in college. Only this time it was in a tiny room in a huge bar. I missed this tradition.
Dipping my toes back into interviewing for full time jobs rather than contracting.
Asheville. Walking miles and miles that day. Taking a conference call outside of a Sheetz off the highway between Carrboro and Asheville because there was an outlet there and my phone and computer were dying.
Many LocoPops in Carrboro.
Many, many more injections.
Taking my first Catapult writing class.
Registering for my first in-person creative writing class since college. Finding out that had I not registered, they wouldn't have met the quota to run it. Having it not be as terrifying as I'd feared. Surprising myself by being able to churn out things I didn't totally despise when given an assignment and a deadline.
Julien Baker. Seeing her by myself at the Chameleon.
Cheese hour. Shortlived, though it was. Perhaps we'll be able to revive it this year.
Finding a nonalcoholic drink when I needed one on the menu at Shot and Bottle. They've since sadly taken it off the menu.
Very long, intense naps, every day for months.
The house cheeseburger at Cabalar.
Getting the balcony fixed. Living on the balcony all summer. Working on the balcony, even when it was too hot. Enjoying the cats enjoying the balcony. Writing on the balcony. I miss it now that it's cold.
A wedding parade through Center City Philadelphia, complete with Mummers, a police escort, and out of control boob sweat.
My beloved tradition of Terrain brunch on the fourth of July, because no one else goes there that day.
Exhaustion in the Frankfurt airport. Pretzels. Nearly missing our flight to Florence.
A solitary DIY writing retreat in a small medieval city on a hill.
The AirBnB in Arezzo, in a building built in the 1200s. The cool stone. The violin lessons next door.
Pici cacio e pepe.
Embracing solo meals out in a foreign city.
Eavesdropping on the Spanish tourists.
Cappuccino decaffeinato.
Motherhood, by Sheila Heti.
Uttering the "p word" only twice. Once when a tourist in PHL asked me why I was refusing the x-ray machine at the airport (it probably would have been perfectly fine, I know), and again when I was trying to figure out if I could eat carbonara in Rome. It's hard to be anxiously cagey and intentionally vague when talking to people in their second language.
Teaching with Girl Develop It, both in Philadelphia and in a women's prison in Delaware. Seeing people realize they can do something they maybe thought they couldn't is one of my favorite things.
A doctor who stuck with me and said one of the best things someone's ever said to me.
Amtrak between Lancaster and Philadelphia and my podcast habit. Amtrak wifi.
Lancaster County Park. Having half a botellon.
Hours reading by myself in Italy.
Jamie Attenberg's #1000wordsofsummer project.
Walking for miles before it got hot outside, napping during the hottest part of the day, then figuring out where to go for supper.
Holding my breath. Learning how to exhale, even just a little bit at a time. Not all at once. Not for good. But just a little sometimes.
Important conversations at BarCamp.
Pizza for breakfast in Florence.
Homemade milkshakes. With malt.
Ice cream sandwiches.
Burger night work night at Molly's. A stressful schedule. An overcommitted partner.
Gestation that feels like it's taken forever and only just started, all at once.
Boundaries. Enforcing them.
Giving myself space to want to have a home on the internet to come back to. Not forcing it. Procrastinating long enough to figure out if I actually want it. (I think I do. I actually think I do. I miss it. More on this later, maybe.)
Giant arancini balls.
Burrata made fresh that day.
The apartment in Rome. Luca, our sweet host, who wrote us the most amazing guide we could have asked for. The windows. The curtains. The teal walls. The bookshelves.
Write/Speak/Code. Ashi Krishnan's talk. Walking into a space where I immediately felt comfortable and kind of in awe of all of the people around me.
Verbalizing to near-total strangers that I want to write a memoir in essays, and why.
Trying to claw my way out from under the weight of the last few years. Making progress.
Building a wall on our second floor to create a more sensible floor plan.
Painting upstairs.
Weighing how many cute things to buy or acquire against my superstition and paranoia and intense anxiety.
Maternity jeans. Then bigger maternity jeans.
Learning that the advice on all online retailers' size charts that you should order your pre-pregnancy size is horseshit.
Learning that for me, for months, the only part of me that looks like it's having a baby is my ass. (I'm totally ok with this, it just makes the whole jeans thing difficult.)
Being grateful again and again for a partner who is not squeamish and can stab me with needles like a champ, but takes no pleasure in it.
A rearranged bedroom that somehow feels even more Scandinavian to me than before.
The cats. Always the cats.
Decaf.
The decaf frozen latte at Mean Cup. I've ordered it when it's below freezing outside. I can't let go of it for some reason. It's become a weird anchor that I look forward to, especially after going to the gym.
Letting go of freelance/contracting life for now, and embracing being in-house somewhere again. It feels good to get paid regularly, work with a consistent group of people, have clear expectations, and well-outlined projects again.
Finding out that Chad has a paid paternity leave.
Maintaining a regular gym schedule, even after not freelancing full time anymore.
An (temporary?) end to the medical-related financial strain of the last couple years.
An end to the unpredictable trips to Philadelphia.
Brunch at Goldie's for a bunch of weekends in a row after it opened.
Another Yoder reunion in Belleville at the creek with my maternal grandfather's family and the hundreds of relatives I have because of his parents. Hymns in four parts with almost the whole range of Amish-Mennonite types represented. Moon pies. Endless soft serve.
A beautiful roofdeck in Old City with friends.
Maternal Fetal Medicine and a very encouraging perinatologist.
Chad reading Mary Oliver to me.
Going to MilkBar and The Strand at every opportunity while staying near Union Square. The first onesie we bought at The Strand.
Spending time with friends at their lake house in the Poconos. Spotting a snake. Floating in the lake for hours, stupidly letting my growing belly get sunburned in a weird pattern. Discovering the joy of grilled cheese with hotdogs in it. Trust me on that one. #campfood
Seeing The National for the fourth? Fifth? time at The Mann. Wondering if it'd be the last show I'd get to see for awhile.
Seeing Of Montreal at The Chameleon in Lancaster. Wondering if it'd be the last show I'd get to see for awhile.
The Call Your Girlfriend live show in Philly. Wondering if it'd be the last show I'd get to see for awhile.
Brunch with new friends on their beautiful deck.
Learning to try to be ok with people showing their support and accepting their congratulations and happiness for us. Accepting their gifts and food and favors. It still makes me wildly uncomfortable, but it is so kind and the smallest acts still just blow me away.
Internalizing that I owe no one on the internet anything. Figuring out boundaries around what to post. Settling on no kid pics online, at least for now. Maybe this will change, but I'm not counting on it.
Chad singing "This Must Be the Place" over and over to see if she (who we referred to as "they") would recognize it when they emerged. (So far, it doesn't seem like it's working.)
Peeking at the ultrasound when the techs told me not to look at the screen. Thinking multiple times a week about emailing Penn to find out the sex, even though Chad adamantly did not want to. I somehow didn't cave.
Eating too much Chik-fil-a, mostly for the milkshakes.
Making time to read more, perhaps due to knowing that it'll be harder to lounge around and read books now.
A maternity photo shoot in Lancaster City at the last minute.
This essay by Lydia Kiesling. Being grateful for no nausea. The rest of the essay is pretty accurate, though.
Getting parenting advice from Austin Kleon. Sometimes Twitter is the worst, sometimes Twitter is the best.
The support of a whole bunch of women online who were formerly strangers to me, whom I've still never met in person but are there in the middle of the night.
An unexpected, medically necessary induction. An epidural. Advice to not wait too long for an epidural if pitocin is involved. Seriously, get the epidural. Going from zero to active labor is no joke.
The amazing staff at the hospital.
My family bringing Christmas to us, including the china we eat on every year on the farm, and then packing it all up and taking it with them. Prime rib (see #98).
A robot vacuum cleaner.
A doctor who listened.
Blood transfusions.
Anemia.
Taking a series of unbearably short naps at night instead of actually sleeping.
Ending the year with getting my kid's birth certificate in the mail, making official something that I never thought would happen.