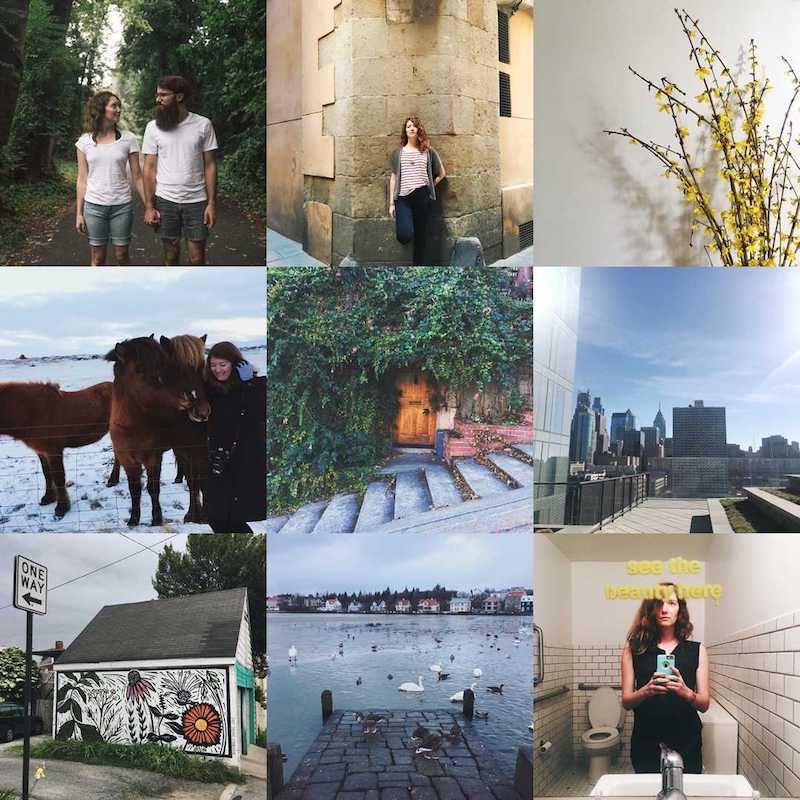 I take the end-of-the-year recap post seriously, but to be honest, I could not stomach putting one together in my usual format. 2017 has felt like a year of private horrors to me, and I'm not interested in reflecting on how little I feel like I accomplished because my energy and effort were needed elsewhere.
But then I stumbled upon Austin Kleon's 100 Things That Made My Year post, and thought, "Huh. I wonder if I could possibly come up with that many things." Spoiler: You're reading this post, so you probably already know that the answer is, shockingly, yes. So here we go.
Diving into Rebecca Solnit's work.
Waking up 30 in Reykjavik.
Waffles, Swiss mochas, and the secret pizza place.
Roadside snuggles from some very furry Icelandic horses.
Teaching women to code for Girl Develop It, both for the Philly chapter and for a pilot program in a prison.
Shake Shack's Chick'n Shack sandwich.
Chad and I reading my cousin's poetry to each other one evening after I found her book at our local Barnes and Noble.
The brick wall we had exposed in our house in January.
Going to the gym more consistently than I have since high school.
Introducing my brother- and sister-in-law to delicious Lancaster food at Luca.
My new desk chair.
Fun email newsletters — Girls' Night In, The Ann Friedman Weekly, Tech Ladies.
Coworking dates with Chrystina.
Getting my first hutch (and first piece of Lancaster Craigslist furniture).
Figuring out what plants work in this house. Goodbye succulents, hello pothos and philodendron.
Surviving a challenging code test for an interview.
Friendly local baristas who cast sunshine into my day.
The $5 zinnia bouquet lady at Central Market.
Horse Fries. Cheeseburgers. The Wind Down, my new signature drink.
Bull's Head Tavern.
The afternoon light in my office and the weird middle room on our second floor.
An unexpected and subsidized trip to Spain.
Drinking cafe con leche at a tech conference.
Inspiring friends.
Creeping through strangers' houses during the Urban Living Tour in Lancaster city.
Chad's amazing-ridiculous quinoa burger at Brunchelona.
Jars of bone broth.
Croquetas, papas bravas, tortilla de patata, and… empanadas. We ate lots of empanadas in Barcelona. No, they are not Spanish, but there was a great empanada place in El Born. We stopped there probably once a day.
Going back to that shoe store three times to make sure Chad had the right size. And the shoes we got there. And our interactions with the shop keepers.
The Keystoner Amtrak Line.
Hearing angelic female vocals and harp music in an alley in Barcelona and being pulled into a private house show.
Our history lesson from the bartender in an empty cafe bar on the origin of the name for a ham and cheese sandwich in Barcelona.
The feeling I had walking around Les Corts when we first got to Spain.
Having my Spanish (mostly) come back to me.
Smartfood white cheddar popcorn.
The idea of a backyard cat salon. Now we gotta host some!
Driving down the coast from San Francisco to Santa Cruz.
Credit card points.
Self-serve, self-pay roadside pie at a berry farm.
Tall dried out reedy things along the road in California.
The best random chai on Valencia Street.
Cult-lady sack dresses with pockets.
A brass coffee scoop.
Seeing amazing people marry each other in a redwood grove.
A relaxing chocolate.
Seeing Mallory Ortberg interview Tom Gault in SF on a whim because our AirBnB was around the corner.
Drinking coffee on the deck in Soquel with lovely people, lovely hummingbirds, and a lovely view.
The rollercoaster in Santa Cruz.
Volunteering as a speaker mentor for ElaConf.
Eating a large boardwalk potato.
BarCamp 10.
All of the ice cream in SF, with special shout out to The Ice Cream Bar.
Drinking canned wine and lounging in the sunshine in Dolores Park.
The realization that sometimes I am the strongest person I know.
Wedding dress shopping with my sister and my mom.
Hiking Twin Peaks. The view.
Resurrecting my GoodReads account.
Reading for hours in the backyard.
Being asked to contribute to The Human in the Machine.
Rediscovering baths.
The sunset at Natural Bridges State Park.
Dinner at Porta in Asbury Park.
The sweet corn risotto and stuffed squash blossoms at Luca.
Trying to make pottery during my sister's bachelorette party.
Naps.
The late afternoon light at my parents' farm.
The drive out of Reykjavik while the sun rose over the icy mountains and glazed the sky.
Lancaster city being cute: The goat outside Central Market, the random alpaca in the alley before Christmas.
Cozy weekend snows.
Chad learning to play Sufjan Steven's "Christmas Unicorn."
Chad waking me up by performing a Run the Jewels song: Wake up. Drink water. Smoke blunt. Clean, oil my Kalashnikov.
Solitude.
Grilled pizza.
The realization that the love you need looks different than the love you wanted or pictured.
The Bite Agave Lip Mask.
My winter coat.
Quiches from Oregon Dairy.
Fine-tuning the number of fucks I give.
Sequins.
My calendar system.
The summer pianos in Lancaster city.
All you can eat empanadas at Flora's.
Honing in on a church.
Mallory Ortberg's Joan and Anna series.
Fancy citronella candles.
Experiencing the eclipse vicariously through Chad.
Chicken fingers when I need them and the introduction to our neighborhood dive bar.
Ellen Ullman's Life in Code.
Revisiting Needles and Pens in SF and being so thrilled that it's still there ten years after our first visit.
If you've made it this far, thanks. This might be the last thing I post here before moving all these archives somewhere else that feels less…. on display. I'm not wild about having work stuff in the same space I want to be able to write in, and honestly, I think it deters me from posting sometimes. I've been thinking about moving stuff around for awhile, and it might be time. We'll see what happens.
Happy 2018, y'all. I'm wishing you warmth, grit, and some magic for the new year.