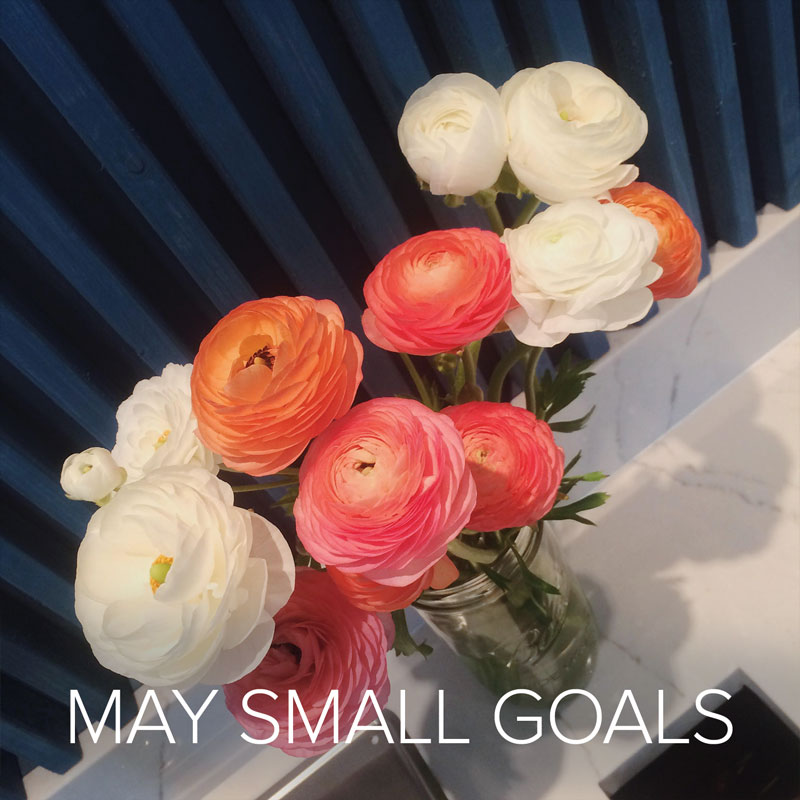 This was maybe one of the weirdest months in recent memory. Not bad weird, thank goodness, just weird weird. I guess that's what happens when you're in the process of moving out of a city you've lived in and loved for almost four years. I feel like I'm still reeling from it a little, and trying to get my bearings as I root through boxes to find things like moisturizer. It still feels a little bit like we're camping, but at least the living room and kitchen now feel like a living room and kitchen.
Here's everything (ok, not actually everything, but some things) I hoped to accomplish in April:
Deliver a solid little idea-generating workshop that is helpful to others at The Blog Connect in a couple weeks. Done! I wasn't sure how it would go, but a couple people came up to me after it was over and said they had tons of new ideas and even new directions to explore with their blogs. Yay!
Use my manicure gift card that my sister got me for Christmas so my nails are pretty for said conference. Done! It was amazing. Having my manicurist lightly paint my hands and forearms with hot coconut oil was my favorite part. After reading some really horrific things about nail salons, I've been really picky about where I'll go. I'd been wanting to try out this nontoxic natural nail place in Philly the whole time I lived there, and finally made it happen when my sister got me a gift card for Christmas last year. Thanks, Lauren!
Deal with taxes. I have an accountant, but have a sinking feeling that we are going to owe a ton. of. money. (Thanks, Chad's former employers who never figured out how to pay the Philly wage tax.) Done, not that I had a choice. We, again, owed the city several thousands of dollars. Just the thing to put an extra spring in your step right after buying a house and paying to get it rewired. Eyeroll. At least we won't have to do that next year. Thanks, Lancaster!
Paint the attic at the new house. Done! This absolutely needed to be done before we moved in or else I'd be having some serious buyer's remorse. Y'all, it was that bad. We're talking lime green and bright orange in an attic with a peaked ceiling. So yeah. It's now Alabaster, the Sherwin Williams color of the year, and that nightmarish color scheme is now just a terrible memory. The stairs are still purple, but we'll get there.
Deal with the wood floors at the new house — I've been told they're too thin for an industrial sander, so I'm looking at DIY alternatives to hiring a refinishing service. Will this become a home improvement and interior design blog? It's yet to be seen. I ran out of time on this one. When the electrician comes in to start rewiring, we're going to get to look at what we think are original pine subfloors that might turn out to be salvageable and beautiful. Here's hoping. Otherwise, we'll refloor in a couple years.
Soak up all the Philly friends and Philly goodness I can get. Done, I guess? It did feel a little anticlimactic to be driving out of Philly on Friday night, but it felt good to wake up in Lancaster on Saturday. But we managed to squeeze in a last minute "See Ya Later, Philly" happy hour at Gojjo last week, so that was nice.
Move all my earthly possessions from Philadelphia to Lancaster. Done. Thank God. I almost thought this wasn't going to happen when we tried to load the car up one last time, but we all made it. I'm seriously impressed with how well-behaved the cats have been given all this nonsense.
Not bad. So, on to May:
1. Make a plan for how to paint the rest of the house. The attic was obviously the most dire, but the rest of the walls are looking pretty grimy too. A couple good coats of paint will make it almost look like a whole new house inside. Hopefully it'll make up for some of the floors' shortcomings.
2. Feel prepared and teach a really helpful Intro to HTML & CSS class for Girl Develop It Philly. I've TAed this class a ton of times and taught it once in South Jersey, but this will be my first time teaching for the Philly chapter (the last time I was scheduled to teach it there it got snowed out!). I'm excited to help others get excited about learning web development! There are still a few spots open. You can register here.
3. Feel as mentally prepared for Google i/o as possible. I have what is quite possibly a once in a lifetime chance to attend Google i/o this month thanks to a generous travel grant from Girl Develop It. I want to go into it knowing what my options are so I don't suffer from intense FOMO or feel overwhelmed with figuring out what sessions and parties to hit. I want to enjoy the time with my friends while we're all hanging in our AirBnB house & soaking up those California vibes.
4. Work on establishing some kind of weekday routine. I have a feeling this month will still feel a little off as I'm transitioning to full time freelance for the time being. I do really well with a little bit of structure, so I'm going to make a plan for how to add that to my days.
5. Take as many opportunities as I can to make new friends here. First Friday is tomorrow, and I'm planning to reach out to an old high school friend and hit up the Lancaster Transplant space before heading out to wander around town and see what's what. We already went to our first Lancaster Front End Meetup, which was great, and I want to attend as many meetups as I can find in an effort to drum up new friends and freelance work.
Thanks to Nicole for organizing this link up.