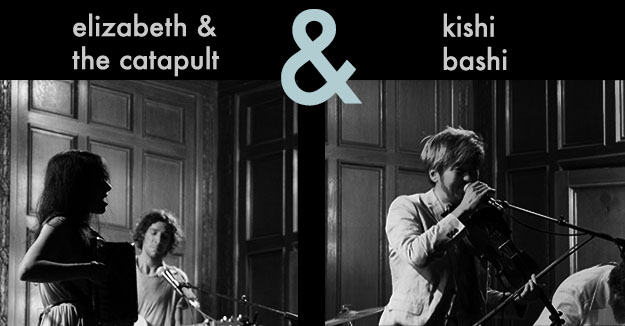 We were first introduced to K. Ishibashi's special brand of genius when we saw of Montreal at Union Transfer about a year and a half ago. I was blown away. He was the star of the show for me, even though he wasn't who we'd come out to hear. He plays under the name Kishi Bashi, and we've seen him play in Philly twice since then, both times at the First Unitarian Church. The first time we saw him headline there, the show was in the basement. But soon he was movin' on up, and we saw him play in the sanctuary of the Church just a few weeks ago.
There's nothing Kishi Bashi can't do with a violin, his voice and beatboxing skills, a microphone, and some pedals. I was rendered slack-jawed and speechless the first time we saw him, and still when I see him live, all I can do is shake my head in wonder. He can take a room from soaring and beautiful heartbreak to a dance party in less than 10 minutes. The man is a force. I love getting to peer into his process by hearing and watching him set up loops at the beginning of his songs.
Plus, he does a rad cover of "With or Without You" that you've also got to see. Don't tell Bono, but I like Kishi Bashi's better. I've also seen him play an Enya cover that is kind of amazing.
Both times he played at the Church, he was accompanied by the lovely Elizabeth Ziman, as Elizabeth and the Catapult.
Between the two of them, they've got some serious classical music chops. Both of them apply their years of study and practice to create unspeakably beautiful and modern sounds.