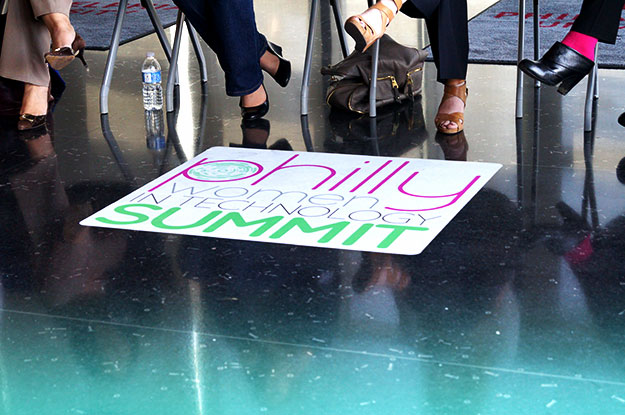 Philly Tech Week is a full week of celebrating and showcasing the amazing things happening in the tech scene, highlighting areas and topics surrounding technology, including accessibility, entrepreneurship, media, entertainment, and civic issues, among others.  Having access to Philly Tech Week is one of my favorite things about living in this city. It's amazing to me the depth and breadth of the programming, and it's so wonderful to show up at almost any event across the city on a given night and running into an old or new friend. It's going to be a very busy week, as I'll be maintaining my normal day job and freelance workload, but it will be worth it.
I'd love to share a few highlights and things I'm looking forward to this week:
Tetris on the Cira Center:  There's a skyscraper in Philly, called the Cira Center, that has bunches of tiny LEDs all over it. Each of the LEDs has its own IP address, and so they are programmable. Which means they can be turned into a huge video game screen, and people can play Tetris on the side of a skyscraper. It is, as they say, rad as eff.
Why Take the Leap? Public Speaking & Your Career: My very favorite tech meetup group, Girl Develop It, is partnering with Happy Cog and Ladies in Tech on hosting a roundtable on how and why public speaking helps your career. I'll be taking extensive notes and prepping for my first speaking gig later in the week.
Rad Girls' Launch Party: At least one of my friends is contributing to this new site highlighting and interviewing women in Philly who are doing spectacular things. I'm excited to meet the rest of the contributors and celebrate their launch.
Philadelphia Women in Tech Summit: This is one of my favorite local events of the year. At the first Women in Tech Summit, I wasn't even sure that I belonged, but by the end of the day I'd decided I wanted to learn web development. So it's a pretty special event to me, personally. Like I shared earlier, I'll be speaking (for the first time! Eeep!) on a panel about career paths.
Does your city or town have a festival or celebration that you love? What are some of your favorite local events?