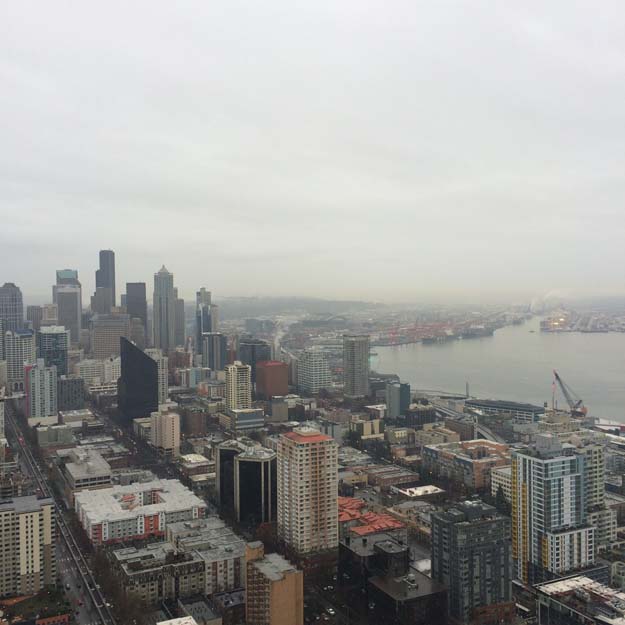 Before heading to Alt Summit, which I'll write about a little bit later, I spent the weekend in Seattle with Chad. One of our most favorite ways to while away some time in a new city is to simply walk and eat, both as much as possible. Seattle was perfectly set up to do just that. I didn't pitch a food round up story to any other site before heading out, because I was only there a couple days and I figured it'd be too much work to scout places, take photos, and write a decent round up for just a couple days. Turns out, it came naturally and a lot easier than I thought.
Our super sweet AirBnB was basically right around the corner from Broadway in Capitol Hill. Witness was a five minute walk away, and just what we needed after a full day of travel and an early wake up time due to the time difference. Southern-inspired brunch to warm our bones and acclimate us to the drizzly Seattle chill.
Because brunch after a long flight and little sleep just isn't enough, we hit Top Pot Donuts in Capitol Hill for our second brunch, or the dessert to first brunch, and more coffee. Four words: maple old fashioned donut. That is all.
After a long drizzly afternoon of wandering around and staring at the skyline via the Space Needle and finally getting to see the Moorea Seal shop in person(!!), dinner from Villa Escondida — the highest rated restaurant in Seattle on Yelp — was both enormous and delicious. It's a sweet little hole in the wall that's a little hard to find, but it offers real-deal, amazing Mexican food.
One of the coolest things about traveling and the internet is that I can meet up with online friends in person! I was psyched to spend the morning with the super rad Erin Anacker, first for coffee at Vivace on Broadway, and then for brunch and a super long conversation at Cafe Pettirosso. A++, would eat squash-stuffed French toast again.
We spent the rest of the day at the EMP Museum, until I felt like I could no longer absorb any more information about music or pop culture, then hit Bait Shop for supper before once again crashing our East-Coast weary bones into our AirBnB for the night.
Chad headed in to the Seattle office of his company on Monday morning while I spent the day bopping in and out of coffee shops and wandering around Pike Place Market. Its innards reminded me a little bit of a cobbled together Reading Terminal Market. Throughout the course of the day, I had amazing soft serve frozen yogurt from Shy Giant and a ham and gruyere croissant and a lavender shortbread from Three Sisters Bakery before wandering into Rachel's Ginger Beer. Now, I get really excited about ginger beer, so I was psyched to see an entire fresh made ginger beer bar, featuring really creative flavors and a rad cocktail menu. I got a Montana Mule, but started fantasizing about returning with Chad in the evening for a hot toddy.
Sadly, we didn't make it back to Rachel's before closing time. Happily, we found Zig Zag to satisfy my hot toddy craving. It felt like stepping into a 1920s speakeasy. Even though it's not actually a speakeasy, it's still kind of hard to find. It's tucked away on the side of a hill not visible from the street. The bar was dark, but cozy, and our bartender was so fun to watch. It was the perfect spot to end my time in Seattle before heading out to Salt Lake for Alt Summit the next day.