It's typically not our style to do touristy guided tours. I want to feel like I'm more or less free to explore when and how I like. So it was odd that Chad and I found ourselves hanging out at the Icelandic Travel Market several times throughout the week. We definitely weren't bored and looking for things to do; it was just that the employees there were so lovely, helpful, and fun that I wanted to befriend them. I will be forever grateful to one woman in particular, who I had really interesting conversations with about street style and anthropology and who also booked us with the most amazing tour guide ever to get the scoop on the Golden Circle.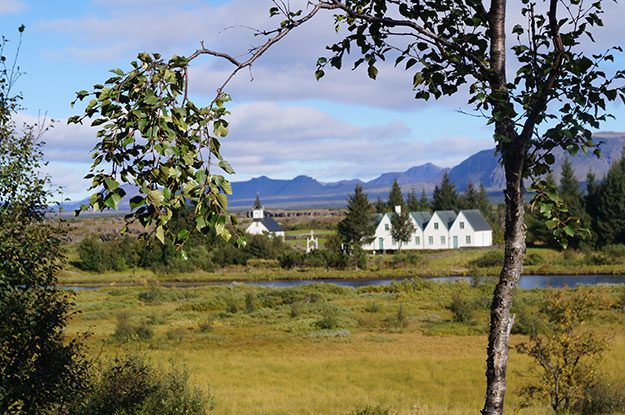 The Golden Circle is a pretty touristy (except in Iceland, even touristy things aren't overcrowded and overcommercialized — I could've walked into any field or waterfall I wanted to, and there were no crowds at all) roundup of a few natural highlights of the country, located in a ring. It consists of Thingvellir, Gullfoss, and Geysir. We took a few bonus stops, because our group consisted of Chad, me, one other solo traveler about our age, and our guide.
Our guide's name was Cyprian, but we called him Cyppie. He's a Kenyan filmmaker and artist who met his Icelandic ladyfriend while they were studying in Asia. They flipped a coin between living in Kenya and Iceland, and Iceland won. It works out well for him though, because Iceland has one of the longest "golden hours" — the time of day when the light is best for photography or film. He said it helps him get more "money shots."
Thingvellir is the home of the first parliamentary session. It's now a rift valley, with the fault between North America and Europe continuing to expand ever so slightly as time goes on. Thousands of people from all over the country would flock to Thingvellir each summer for the proceedings.  The spot where the Norse and Celtics met to organize in 930 has now opened up into a canyon, and you can actually see the gap between the tectonic plates. Interestingly, there's a spot nearby where many women accused of various crimes, including witchcraft, were drowned. There's a plaque by the water with the names of those who were drowned there; Cyppie told us that most everyone in the country was probably related to at least one of the names on the plaque.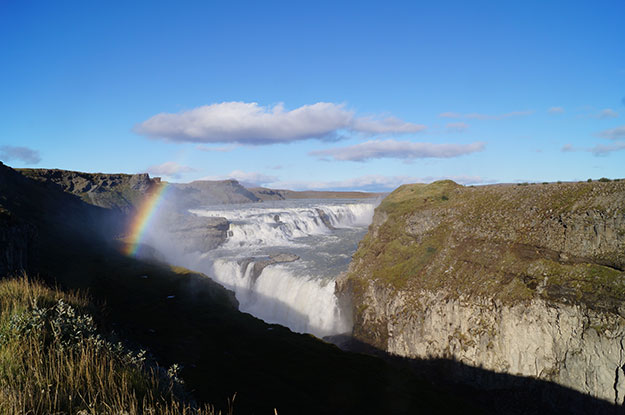 Gullfoss, or the Golden Falls, was one of the highlights of the afternoon. Because of the light and the mist from the water crashing below, there were consistent double rainbows over the falls.
Geysir, as one might imagine, is where we got the English word "geyser." There are all sorts of other, smaller geysers and hot pots around the area, and we saw them all go off several times. Apparently you can boil eggs or make bread by burying it in the ground near one of the hot pots, and there are hotels and restaurants nearby that serve them.  Cyppie kept reminding us that the warning signs were serious — 100 degrees Celsius is a lot hotter than Farenheit.
You can read about the rest of our adventures in Iceland in the archives.