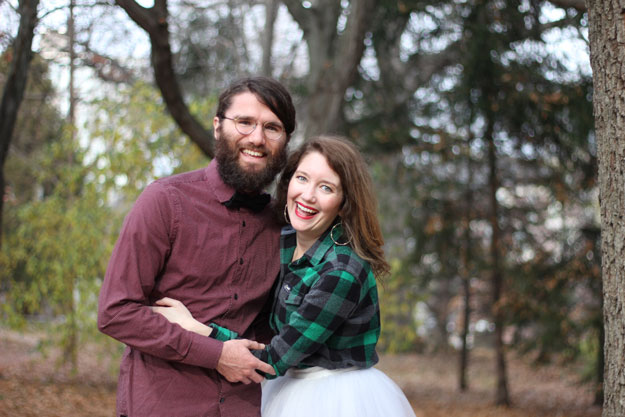 December always starts out so slow, you know? Thanksgiving ends, and you think (or at least I think), "Oh, I have several glorious weeks until Christmas! This year I surely won't be rushed. That's weeks to leisurely bake cookies, decorate the apartment, sing all my favorite Christmas hymns, watch 'A Very Murray Christmas,' go cut down a tree, and hand address a bajillion custom holiday cards while sipping the most delicious eggnog that I'll buy from a local supplier."
And then you find yourself, on December 12, realizing that not only do you have one more weekend until Christmas, but you have no decent photos to use for said custom holiday cards. If you're like me, you then panic and put out a desperate call on Facebook to learn if there will be any holiday card-appropriate photobooths or if any of your photog friends are still doing mini holiday portrait sessions… and then in an act of further desperation, you decide to take matters into your own hands. After all, how bad can it be? You can always forgo the photo card for a nonphoto card if it doesn't work out.
Lucky for me, our DIY holiday photo adventure worked out. So now I'm here with a few tips on how to take your own photos, whether it be for holiday cards (Y'all, if you can't get it together in time for Christmas, NEW YEAR'S CARDS ARE NOW A THING FOR WE PROCRASTINATORS! Also, Christmas technically lasts 'til January 6, so we've still got some time.) or just your own personal enjoyment.
Check the weather. We technically had all afternoon to make this happen, but I knew that it was going to get kind of cloudy and hazy later on, so we opted to do it earlier in the day to catch the golden light before the sun ducked totally behind a dark, cloudy haze.
Wear something fun. Don't be afraid to be over the top. If you decide you look awesome, it'll show. And then all your friends will also want to wear a giant tulle skirt & really bright lipstick. They'll ask to borrow the exact clothes you were wearing to take their holiday photo. No kidding, this really happened to us.
Take a whole bunch of pictures in different spots. You never know how the light or surroundings will look until you snap a few frames! Better to try more than you need than to get home and realize you're unhappy with all of the photos.
Eat beforehand or bring a snack. Even though we experimented with a few different backdrops in different places, I think the photo we ended up selecting was one of the first five we took. I started to get hangry, and even though I can smile through it, I felt like I wasn't projecting the same energy later on after I started feeling really hungry and grumpy. It was a bummer, cause I liked one of the other locations a little better.
Plan ahead. I wish we had done this sooner. I held out hope that we'd find a photographer for way too long, so by the time we took our photos it was getting to be crunch time for designing, ordering, and printing our postcards. Now that I have one DIY photoshoot under my belt, I'll be so much less scared to do another one next year, maybe!
Order from Minted. Minted is a design marketplace of independent artists from around the globe. This is the second year in a row we've ordered holiday cards from them, and I love the variety. There are new designs being added all the time. They've got everything from new letterpressed, gold foil, and different shaped designs to simple postcards. I always have fun testing out my photo with the different designs. They've also got a ton of New Year themed cards (wink, wink, procrastinators!), and you can customize the text, backing, and colors of the designs. And, if you really, really love your shiny new photos that you took of yourself, you can get them made into wall art to enjoy throughout the year.
Think about what orientation of card you like. It might help to take a look at the variety of designs available so that you have a good idea of whether you prefer portrait or landscape orientations and how to leave some space for any text or design elements that will be layered on top of the photo.
Things I Wished I Had But Managed to Do Without:
A freaking remote
. While I do think that sprinting from the tripod into the shot added a certain level of, ahem, energy to the photoshoot, I think it would have gone a lot quicker if we could have just taken a ton of photos with a remote surreptiously hidden behind my giant tulle skirt.
A fully functional tripod. Our tripod was a hand me down from a former coworker of Chad's. I'm so glad we had it. We couldn't have managed without it. But it is a little bit broken; it doesn't extend quite the whole way. I would have liked to try moving the camera a little higher, but I think we got away with it.
This was our winner. I think we did a pretty decent job!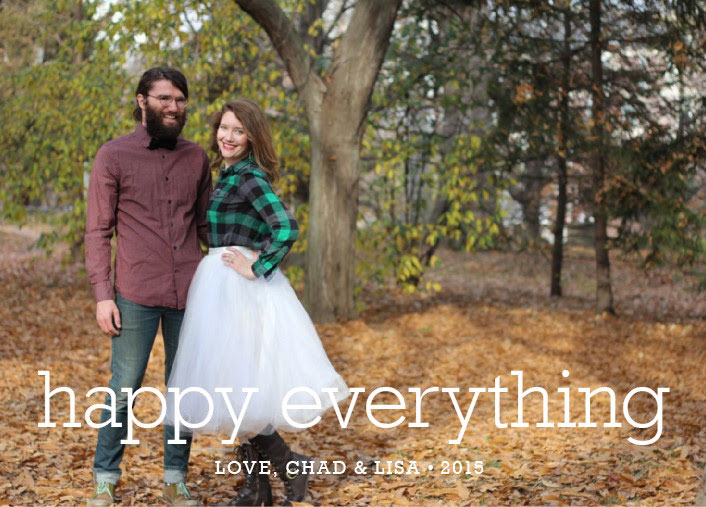 Disclosure: Postcards were graciously provided by Minted. But like I said, I would have used them again this year, regardless. I genuinely support what they're about, and I'm honored to collaborate with them on this post. Thanks, Minted!