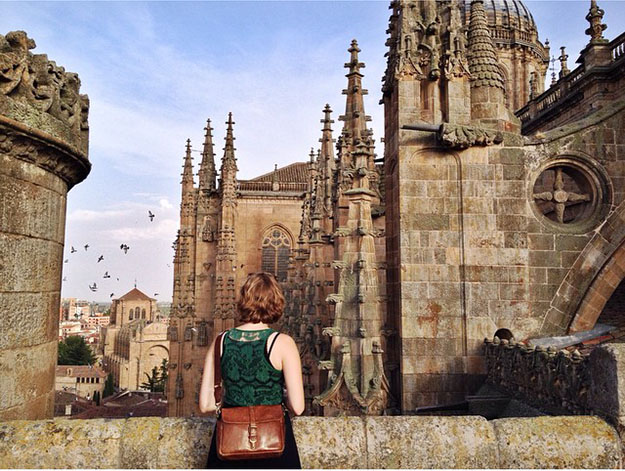 There are so many reasons to love Salamanca. It's just so beautiful that you can totally just show up without a plan and get lost wandering the crooked cobblestone streets through sandstone passageways and be completely content. But if you're looking for more specific highlights, I'm sharing a few of my favorite haunts, sprinkled with a few shots from the trip.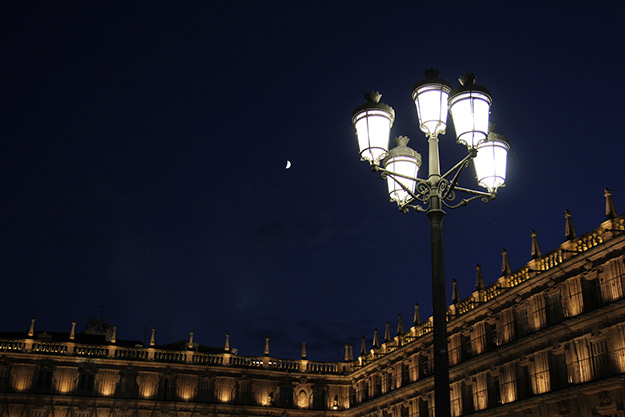 La Malhablada — The rest of the places on this list are my favorites dating back 7 years, but this art space specializing in microtheater has only been open since the end of May. We stuck around a few extra days, in part because we wanted to see it when the owner got back from vacation. There are several floors of smallish performance and exhibit rooms, with a homey bar with basic snacks on the top floor and a balcony overlooking Calle Melendez. If I lived in Salamanca, I'd be hanging out here multiple times a week.
Enmarte — Tourists don't know about this spot. I found it out from asking the hippest Spanish teacher I had the semester I lived in Salamanca. I wanted to find a good vintage hookup, and she suggested this place. It's got lots of vintage, but also small independent brands that aren't widely distributed. I still have some vintage clothing I plucked out of the 2 euro shopping cart in the corner seven years ago. This time, I picked up a couple Skunkfunk pieces that were on sale.
Croissantería Paris — Nothing here has changed. If you're in Spain and want to feel like you're in France, you seriously can't miss this. Get a "blanca y negra," a doublewide croissant filled with chocolate on one side and vanilla on the other. Ask them to pop it in the microwave for a few seconds to make it perfectly gooey and delicious.
Ieronimus — Ieronimus is a tower tour of the cathedral of Salamanca. Touristy, yes, but the multiple cathedral yield the best views of the city from every angle. It's also an amazing workout if you run up the stairs like we did right before they had to close.
Huerta de Calisto y Melibea — This is a really beautiful walled garden in the old part of Salamanca. The garden is named after the Tragicomedia de Calisto y Melibea, more commonly known as La Celestina, which is a really big deal in the medieval Spanish literature world. If you've read anything about the play, you'll understand why the name makes sense. There are wishing wells, and it's built high on the edge of the old part of the city. It's one of my favorite spots to sit and chat or wander around through the rose bushes and ivy. Chad snapped one of my favorite portraits here seven years ago; we tried to recreate it this time and got close.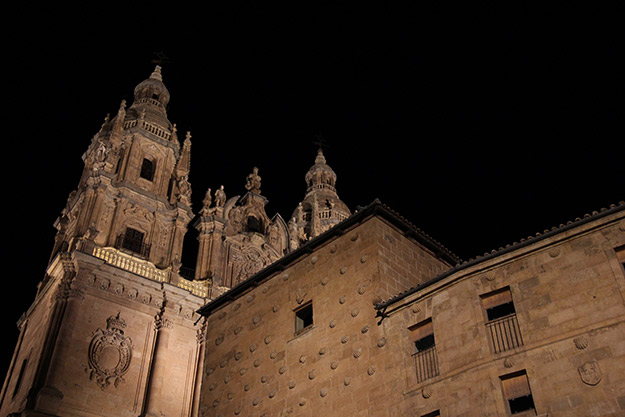 Delicatessen y Cafe — We found ourselves here so many times this week. Right on Calle Melendez, it's super close to Pension Salamanca, where I've stayed numerous times, so it was really convenient. They do great Spanish interpretations of American breakfasts (breakfast as we know it does not exist in Spain — getting a ham and cheese sandwich for breakfast is a victory), have excellent chocolate con churros (from what I remember; we didn't have any this time!), a full bar, and a solid menu del dia.