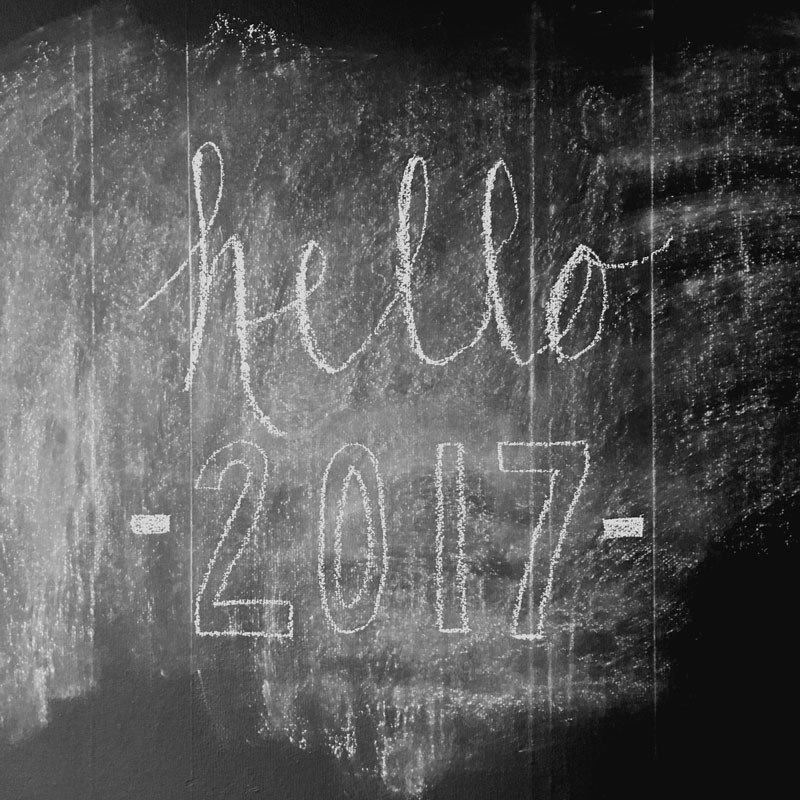 I'll be the first to admit that, especially after last week, the NYE/New Year's goal/planning appeal is starting to wear off. I wonder how much of that is due to the rapid consumerist marketing cycle of advertising to the next holiday. I saw Valentine's Day stuff in stores immediately after Christmas.
But it's still the beginning of the year, and it's helpful to acknowledge the things you want to accomplish. I'm mainly doing this for me, as a record of my goals and plans for the year, with the full knowledge that saying I want to do something won't make it happen, but with the hope that recording it will solidify it in my head a little bit and encourage some level of accountability to myself.
I had a bunch of things I wanted to do in 2016 that didn't get done (but I still did a lot of great things!). Here are the carryovers from last year, with commentary:
Find community — I think I need to find a few communities, really. A group of Galentine's Day type ladies, local tech ladyfriends, a church, and the type of friends we had at the end of college.
52 CodePens — This was doomed once I got behind and gave up on doing any. I think I'll halve it and shoot for 26 this year. I can then pleasantly surprise myself if I surpass this.
Echo App — I think the idea is still cool. And I need projects to put on GitHub. So I guess I'll keep it.
Blog series — I mainly added this so I'd blog more regularly. That still applies. Maybe I'll call it an editorial calendar/plan.
Make a quilt — I started one and hope to finish in 2017.
Etsy shop of found and vintage home goods — Holding off on this one for now. I have too many other things going on, and it's clear I want to spend my time on other things.
Establish a writing practice — This didn't really happen, I think mainly for scheduling and mental health reasons. Which is unfortunate because that's when I need it most.
Inbox Zero — Yep. I'm so close.
Things I want to add:
Write and share a lot of code
Write and share a lot of words
Make another bra. I took a Bra Making with Madalynne class in December, and it's such a rewarding project that can be done in an afternoon.
Continued work on the house, both large improvements and small ones that make it feel like home.
12 dinner parties — this one scares the crap out of me, but I really want to intentionally try to forge some relationships in our new city.
Learn a little every day
Continue to be visible
Feel hireable and like I can contribute — or, feel like I'm adequately prepared for the next phase of my career, whether it's freelance or remote employment
Find real, meaningful, tangible ways to resist everything that's wrong with the present administration
Do something musical again. Low pressure, but with some structure. Maybe revisit voice lessons?
Book a weekend writing retreat
Take scheduled digital breaks
Feel strong and energetic — food, running, trying a barre class, yoga, lifting
Be well and regularly fed
Invest and be invested in in Lancaster — Find my people and make time to explore greater Lancaster County. Lancaster City is so wonderful I rarely leave, and I know there are so many hidden gems in this beautiful place outside of the city.
Make time for Philly — for friends, fun time, and professional connections. These three are often one in the same for me!
Lisa Eats Cheese — site launch and more videos!
Look for a local acupuncturist I like
Be steeped in tech, creativity/writing, good friends both new and old, and a church/spiritual community.
These don't feel like particularly measurable goals. For some reason this year I'm gravitating toward broader themes of how I want to feel, mixed in with a few pretty actionable items. There's a big difference between 12 dinner parties and feeling strong and energetic. But my hope is that a goal like "feel strong and energetic" leads me to do concrete things I've wanted to do, like try a barre class, light lifting while watching TV, and consistent meal planning. At the end of the year, I'll know if I feel that I invested in and was invested in in Lancaster, even though it's vague. So we'll see how that goes.
What are your plans? Are you still feeling that New Years goal glow?